2021 Virtual AGM & Call for Board Nominations
The Biathlon Society of BC invites you to join our Annual General Meeting (AGM) of Members to be held on Sunday, May 16th, 2021 from 10am-2:30pm PST
The AGM will be held virtually via GoToMeeting platform. Each session will start and finish promptly on time. Recommendation is for attendees to sign in 10 minutes ahead of scheduled session.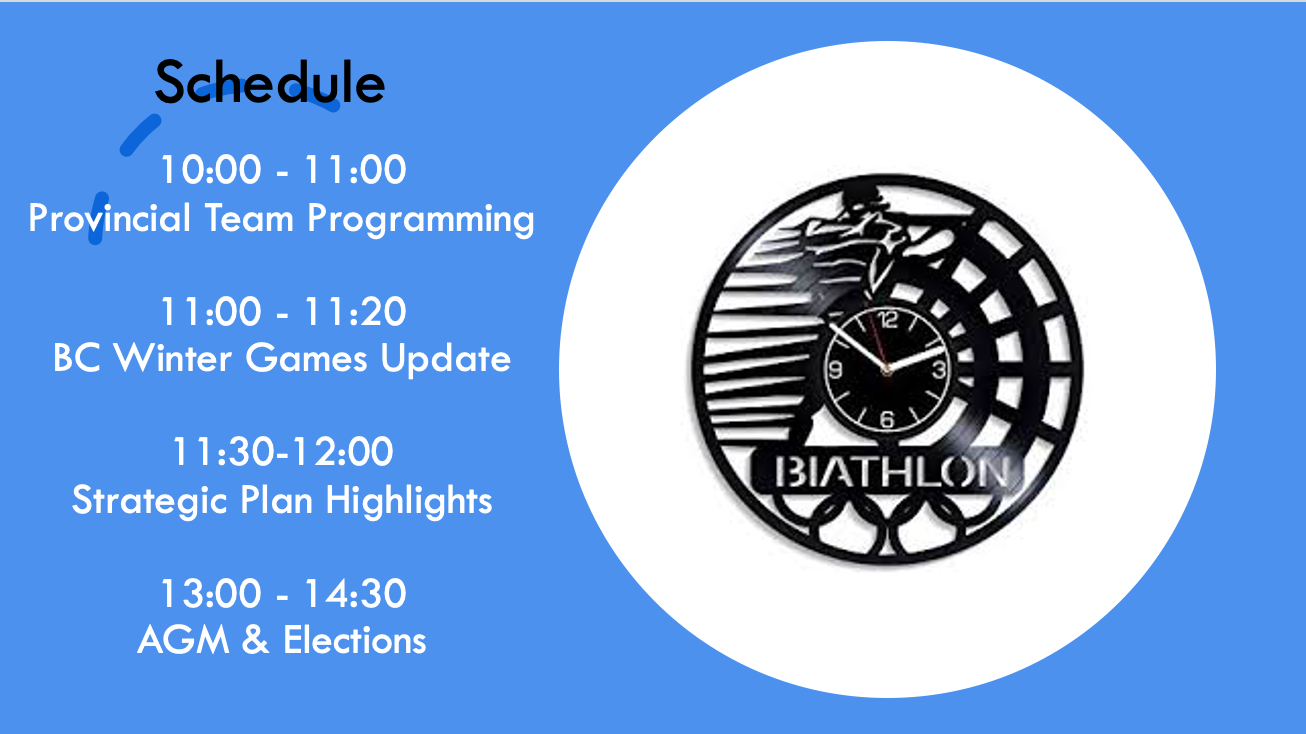 To attend the Virtual AGM & Presentations, please REGISTER to receive login link
The meeting Agenda and minutes from the 2020 AGM will be available on this page prior to the meeting. Please review the Society's Constitution and Bylaws and Biathlon BC's 6 Year Strategic Plan 2021-2027 at your convenience.
The number of Board openings in this election: Three (VP Administration, Treasurer, VP Marketing)
Terms are expiring for Clayton Whitman, Aaron Sinclair, and Gary Tate. These Directors are eligible to run again if they wish.
Note: Clay Whitman and Aaron Sinclair will let their names stand for the upcoming Board of Directors election.
Board Members continuing for the second year of their 2-year terms: Kevin Moutray, Chris Halldorson, and Laura Bot.
Length of Board Terms: 2 years.
Election process: If there are more than One (1) nomination for any position received, an election will take place electronically at the AGM. If One (1) or fewer nominations are received for each position, the Board will be appointed by acclamation.
If you would like to put your name forward for a vacant position, please complete and submit NOMINATION FORM no later than May 9th, 2021
---
New to GoToMeeting?
Get the app now and be ready when your first meeting starts: https://global.gotomeeting.com/install/127687605
Quick tutorial on joining as Attendee: https://www.youtube.com/watch?v=95dRdnMMgbQ
If you need further assistance please email office@biathlonbc.ca